I started out with Sally Hansen Complete Manicure in Midnight in NY. Let me just say this polish in the bottle looked beautiful. In the bottle it is black with a pile of multi-coloured micro glitter. Unfortunately, once on the nail the microglitter is bearly visible, and you will need to stare at it pretty hard to see it. I was so disttracted I actually forgot to take a pic of it on its own.
After a day of wearing this on its own, I grabbed my pink Konad special polish & image plate M25 and got to konadding.
Note: For full nail coverage I stamped the image 2-3 times depending on the nail's size.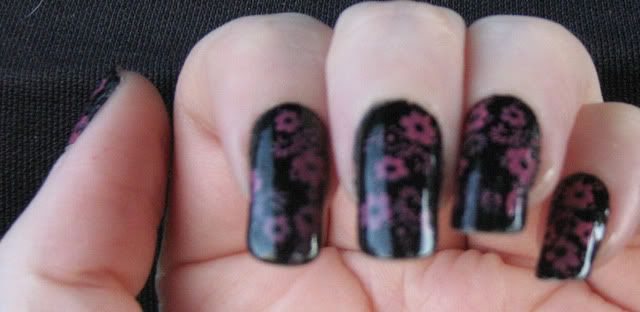 I wore it like this for 2 days and then I added a coat of Designer Brands in Glitterama. This is where I really started to love this mani & this polish for that matter. I may even buy a back up just to be safe.
Pic Outside in the Sun
Despite what the pic might indicate, the glitter did not overrun the Konad, the two worked perfectly well together. The glitter just jumps at the camera.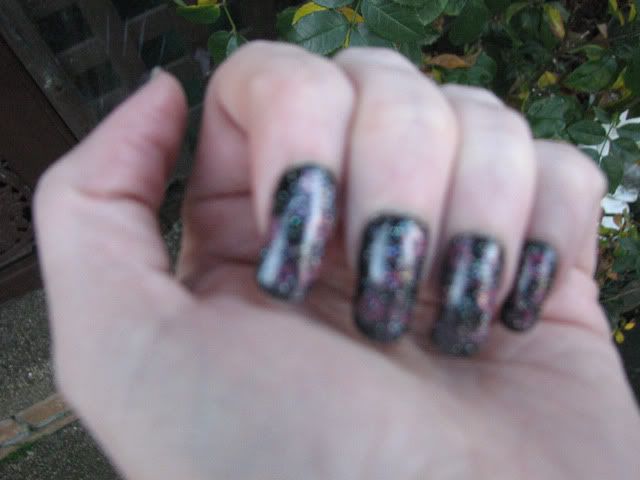 A blurry pic to show the amazingness of this glitter nailpolish.