Last week as I was driving into my local shopping centre, I saw that a Japanese Dollar Store (everything AU$2.80) had opened as an outside shop of the shopping centre. I've been to the Daiso in Richmond once, and while I liked it, it isn't particularly local to me and I did not feel like it was worth the commute or dealing with the parking at that arcade to make return trips. This new, like Daiso but not Daiso, shop is a lot more accessible to me. Due to its location being an outside shop with not much else around (a local council thingy or something, a credit union and other random type things), no entry or signage in the actual shopping centre for the store, I'm not really sure if it will survive.
Anyway, I of course had to check it out and guess what greets me as soon as I walk in - nail polish. I could not resist temptation and picked up 4 bottles.
The tiny bit of Japanese I did in high school is of no assistance to me, and I do not have the slightest idea of what the bottles tell me.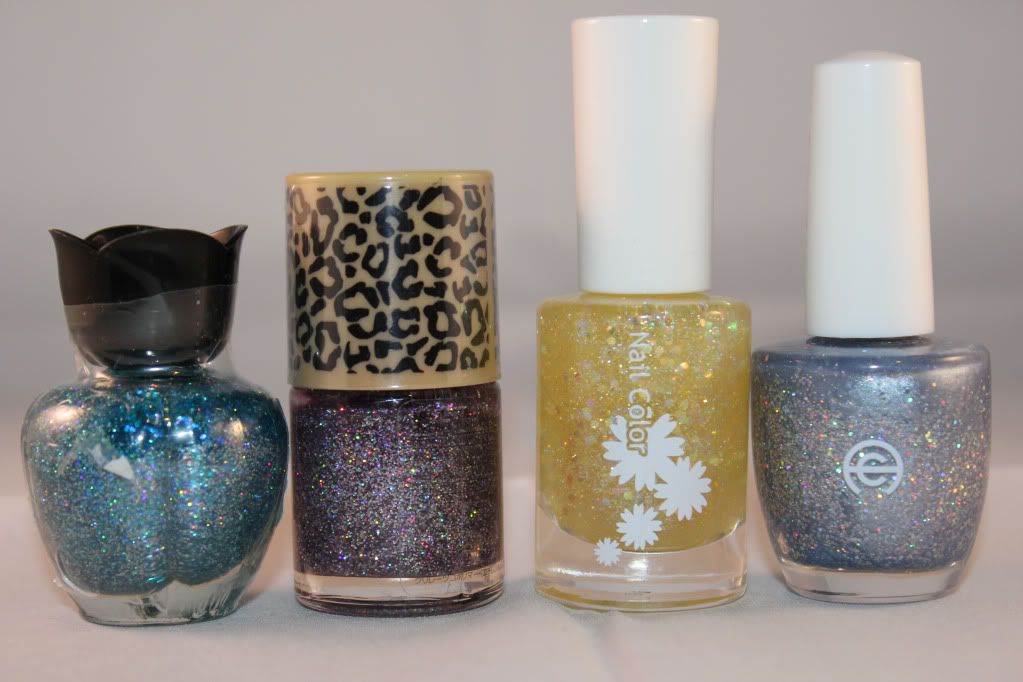 Front on for the 2 distingishable bottles with "fronts"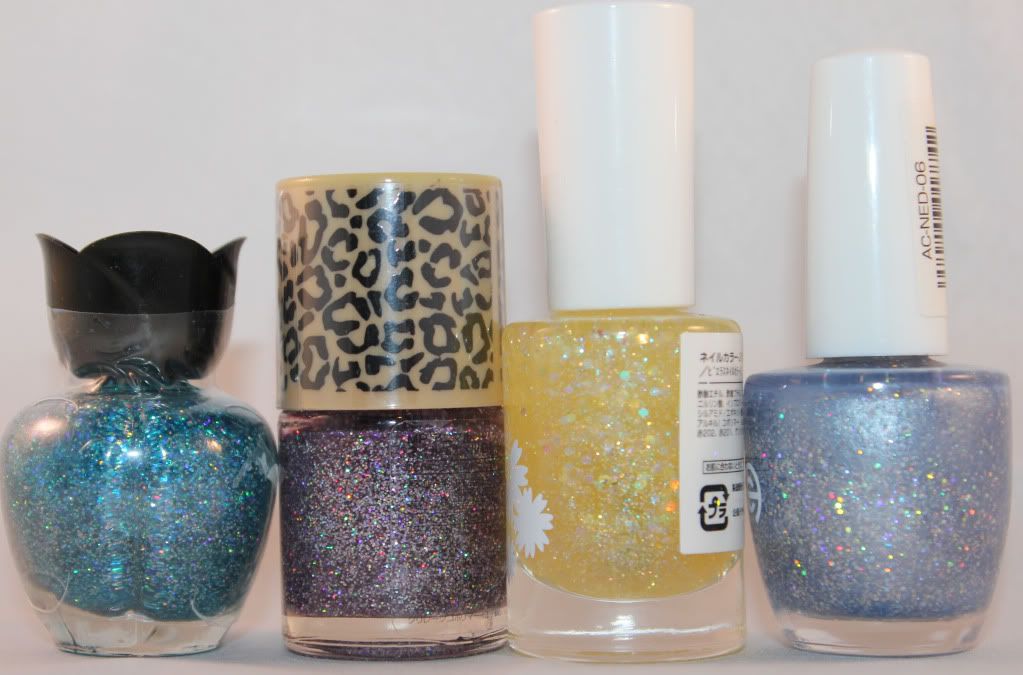 Side View (so you can see the pretties better)
Considering the price, I would guess they are not 3 free, but really, I have no idea. They do not over power you with a smell. In actual fact, having just done a sniff test on all four bottles, they are no more or less smelly than the random bottle of China Glaze, OPI, Essence, Orly, Revlon, Sally Hansen or W7 I just sniffed, that I happened to have sitting on my desk with me.
I took like a million shots trying to get something accurate. In the end I've got 3 photos for the ones in the centre, and 4 for the ones on the outside. All capture something about the polishes I believe.
Firstly, I will start with the two centre polishes from the group shot.
For all 3 photos: The ones labeled 7 & 8 is the tall yellow tinged polish labeled Nail Color. 9 & 10 is the one with the cheetah type print lid.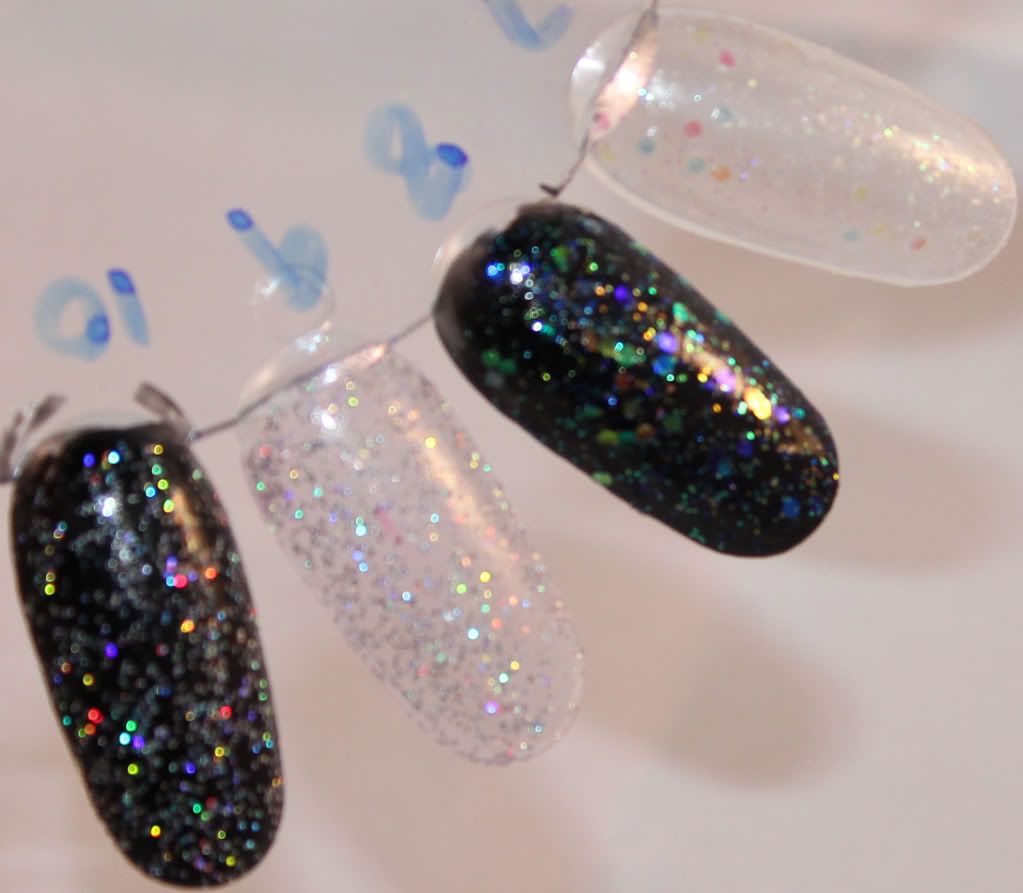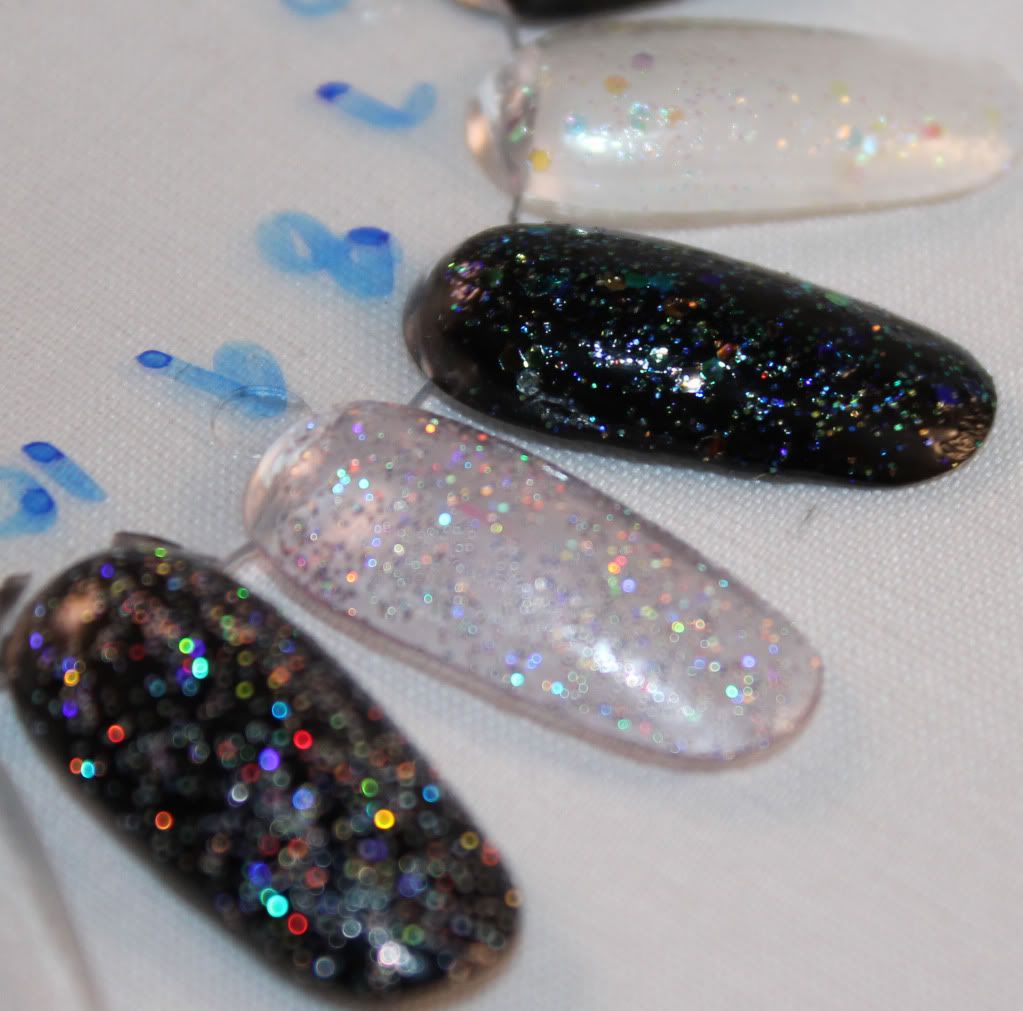 Secondly, we have the blue polishes (the outside ones in the group photo.)
For all the following 4 photos:
Nails 4 & 5 is the polish on the right (with the symbol on the front). Nail 4 has 2 coats; Nail 5 has 3 coats.
Nail 6 is also the same polish (2 coats) but this time I layered it on top of BYS - Pink (2 coats.)
Nails 7 & 8 is the polish on the left (black lid, sort of flower shaped). Nail 7 has 2 coats; Nail 8 has 3 coats.
Nail 6 is also the same polish (2 coats) but this time I layered it on top of BYS - Pink (2 coats.) I love how this turned the polish a green colour.
This first one, I consider the most colour accurate, with nails 4 & 5 showing the real icy blue silver toned frosty colour. My other swatches all appear more silver toned than it actually is.