It has been a while since I have done one of these Lust Have It posts, even though I did take pictures I just never got around to posting. Might end up posting for the archives anyway.
They did have me scratching my head for a moment, as there was a typo on their product card. One side of the card say's Bold and beautiful July lust haves. Someone did a bit of an oops, probably should have taken a picture of it. *haha*
Anyway, for their first birthday they packaged it just like a present in a box with a bow around it.
The Package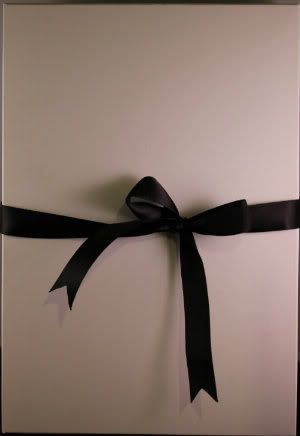 L-R: Marc Jacobs: DOT fragrance; Bed Head - Glaze Haze Smoothing Serum; Shiseido Lipstick; Pure Fiji Exotic Bath & Body Oil - Orange Blossom; Wet n Wild Nail Polish.
The blue thing in the front is a tanGo Tanning Glove
Really, only two of the items interest me. I expected a little special package this month being their birthday but just like everyone else I was a little disappointed with this collection.
What the card says... Fullsize RRP $29.95
The tanGO tan removal glove acts like elastic gently pulling the tanning pigment away from the skin without the use of any harsh exfoliants or chemicals. Also doubles up as a great make up remover just add water.


What I say...
This looks like a face washer. yes, a face washer. You would think if they planned to call it a glove they would actually make it look like a glove. It feels like one of those microfiber cleaning clothes. Hmmm.... nice. I don't see me using this, I'm not really a fake tanner, although I'm not happy with my ghost like appearance, I'm just not happy with my orange fake tan like appearance either, so I go ghostly. It will make a nice cleaning cloth? Might try it for make up removal...
Bed Head - Glaze Haze Smoothing Serum
What the card says... 50ml (although, I think it should say 500ml?) RRP $29.95
This semi-sweet smoothing hair serum works to smooth the hair cuticle and fight humidity. Lightweight, Candy Fixations Glaze Haze Smoothing Serum reduces drying time and adds a high shine to any hair type.


What I say...
I have dead straight hair (and I really do mean that, I am a ghost with dead straight hair - go me!) that is inclined to get oily. Yep, I won't be touching this one.
Marc Jacobs: DOT Fragrance
What the card says...100ml RRP $160.00
DOT by Marc Jacobs the new lush floral fragrance captures a charming and upbeat spirit with timeless sophistication. Fluttering sweet and fruity top notes of red berries that descent through a trail of jasmine and orange blossom, landing on a base of vanilla and musk.


What I say...
Much like a lot of things in Australia this is yet to be released, so I was super super happy to get this sample. I love getting Marc Jacobs fragrance samples in these packs. :D
Pure Fiji Exotic Bath & Body Oil- Orange Blossom
What the card says... 236ml RRP $34.95
Nourishing blend of exotic nut extracts that will rapidly hydrate and condition your skin. A balance blend of cold pressed VirginCoconut, Macadamia, Sikeci and Dilo nut oils form a unique bio-network that promotes cellular renewal for younger looking skin and a protection from environmental elements.
What I say...
I wasn't excited about this, even though I have been using one of their products recently that I got in another Lust Have It (and I quite like it so far). I've used it twice anyway, and the jury is still out. My skin does feel lovely and soft after I apply it but I cannot help but think that is just because the product seems to just sit on top of my skin rather than sink in. Even when I get up in the morning it still feels like it is sitting on top of my skin, not as much as when I have just applied it but really... the next morning. If you do not like highly scented products you won't like this as the scent is really strong, although I'm not sure it is really a strong orange scent, maybe a strong chemically enhanced orange scent.
What the card says... 4.5g RRP $43.00
A new formula that provides true intense colour with all day hydration. This ultra-smoothing formula blends effortlessly for a luxurious finish.
What I say...
I have never tried this brand before, but I just adore this sample lipstick. As I'm not familiar with the brand I'm only guessing, but I think the shade I got is RS612.
I adore this, and my photo just cannot do it justice. The RRP is more than I would ever pay for a lipstick, but... if this actually suits me when I wear it, do not be surprised if you see a full size in my collection one day.
What the card says... Fullsize RRP $14.95
A composition rich in colour: intense elegance, light pastel colours and tones scintillanti Vedrai the benefits of these enamels from the first application of colour. Ultra uniform coating with no trace of imperfection.
What I say...
Definietly the most disappointed with this product. With USA written on the bottle, I'm only guessing this is the infamous Wet n Wild Walgreens type brand and Woe! is me. This is the streakiest messiest piece of thing I have ever seen. I'm not even sure where in Australia sells Wet N Wild as I have never seen it, but blah... definitely not worth the RRP $14.95. Cannot believe they are pricing this inline with Revlon nail polish. What is the world coming too? At least Essence stayed in the ball park of cheap product.